Biography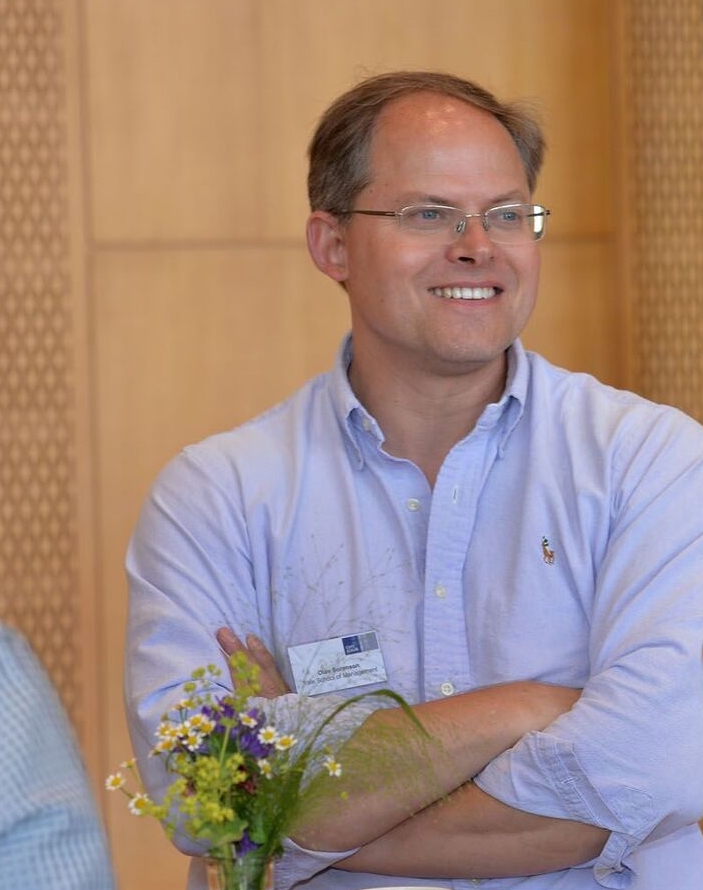 Olav Sorenson is the Joseph Jacobs Chair in Entrepreneurial Studies and Professor of Sociology and Strategy
He had been a faculty member at UCLA from 1999-2005 and returned in 2020. In between, he held the Frederick Frank '54 and Mary C. Tanner Professorship at Yale, the Jeffrey S. Skoll Chair in Technical Innovation and Entrepreneurship at the University of Toronto, and a professorship in Strategic and International Management at London Business School.
Olav's primary stream of research pertains to economic geography, focusing on how entrepreneurship influences the growth and competitiveness of regions, and on why some regions have more successful entrepreneurs than others. In particular, he has called attention to some of the unexpected consequences of the fact that social capital plays an important role in entrepreneurial success.
He also has secondary research streams on how social relationships influence economic transactions and on the sociology of science and innovation.
Olav co-founded Sociological Science and serves as a Department Editor at Management Science. He has also held editorial positions at the American Journal of Sociology, the American Sociological Review and ten other journals.
Degrees
Doctor Mercaturae Honoris Causa, Aalborg University
Ph.D. in Sociology, Stanford University
M.A. in Sociology, Stanford University
A.B. in Social Studies, Harvard University
Publications
Olav Sorenson, Michael S. Dahl, Rodrigo Canales, and M. Diane Burton. "Do startup employees earn more in the long-run?" Organization Science, 32(3): 587-604
Ramana Nanda, Sampsa Samila, and Olav Sorenson. "The persistent effects of initial success: Evidence from venture capital." Journal of Financial Economics, 137: 231-248
Marc Lerchenmueller, Olav Sorenson, and Anupam B. Jena. "Gender differences in how scientists present the importance of their research: observational study." British Medical Journal, 367: I6573
Olav Sorenson. "Social networks and the geography of entrepreneurship." Small Business Economics, 51(3): 527-537
Marc Lerchenmueller and Olav Sorenson. "Gender differences in early career transitions in the academic life sciences." Research Policy, 47(6): 1007-1017
Olav Sorenson. "Regional ecologies of entrepreneurship." Journal of Economic Geography, 17(5): 959-974
Sampsa Samila and Olav Sorenson. "Community and capital in entrepreneurship and economic growth." American Sociological Review, 82(4): 770-795
Olav Sorenson, Valentina Assenova, Guan-Ching Li, Jason Boada, and Lee Fleming. "Expanding innovation finance via crowdfunding." Science, 354(6319): 1526-1528
Olav Sorenson and Michael S. Dahl. "Geography, joint choices, and the reproduction of gender inequality." American Sociological Review, 81(5): 900-920
Olav Sorenson and Michelle Rogan. "(When) do firms have social capital?" Annual Review of Sociology, 40: 261-280
Michael S. Dahl and Olav Sorenson. "Home sweet home: Entrepreneurs' location choices and the performance of their ventures." Management Science, 58(6): 1059-1071
Sampsa Samila and Olav Sorenson. "Venture capital, entrepreneurship, and economic growth." Review of Economics and Statistics, 93(1): 338-349
Michael S. Dahl and Olav Sorenson. "The social attachment to place." Social Forces, 89(2): 633-658
Michael S. Dahl and Olav Sorenson. "The embedded entrepreneur." European Management Review, 6(3): 172-181
Jesper B. Sørensen and Olav Sorenson. "Corporate demography and income inequality." American Sociological Review, 72(5): 766-783
Olav Sorenson and David M. Waguespack. "Social structure and exchange: Self-confirming dynamics in Hollywood." Administrative Science Quarterly, 51(4): 560-589
Olav Sorenson, Jan W. Rivkin, and Lee Fleming. "Complexity, networks and knowledge flow." Research Policy, 35(7): 994-1017
Olav Sorenson and Lee Fleming. "Science and the diffusion of knowledge." Research Policy, 33(10): 1615-1634
Lee Fleming and Olav Sorenson. "Science as a map in technological search." Strategic Management Journal, 25(8-9): 909-928
Toby E. Stuart and Olav Sorenson. "Liquidity events and the geographic distribution of entrepreneurial activity." Administrative Science Quarterly, 48(2): 175-201
Lee Fleming and Olav Sorenson. Technology as a complex adaptive system: Evidence from patent data. Research Policy, 30(7): 1019-1039
Olav Sorenson and Toby E. Stuart. "Syndication networks and the spatial distribution of venture capital investments." American Journal of Sociology, 106(6): 1546-1588
Olav Sorenson and Pino G. Audia. "The social structure of entrepreneurial activity: Geographic concentration of footwear production in the U. S. , 1940-1989." American Journal of Sociology, 106(2): 424-461
Awards & Grants
2018 Global Award for Entrepreneurship Research
2017 OMT Best Entrepreneurship Paper Award, Academy of Management
2016 OMT Best International Paper Award, Academy of Management
2012 Carol and Bruce Mallen Award for Lifetime Published Scholarly Contributions to Motion Picture Industry Studies
http://soc.ucla.edu/wp-content/uploads/2020/09/Bxd_Blk_Sociology_A.png
0
0
webteam
http://soc.ucla.edu/wp-content/uploads/2020/09/Bxd_Blk_Sociology_A.png
webteam
2022-08-30 17:21:52
2022-08-30 17:26:26
Olav Sorenson