THE SCRAMBLE FOR CITIZENS
Dual Nationality and State Competition for Immigrants
UCLA Alumnus 2005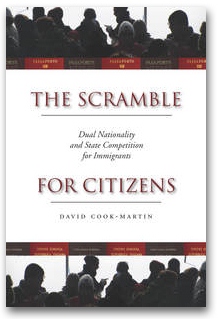 It is commonly assumed that there is an enduring link between individuals and their countries of citizenship. Plural citizenship is therefore viewed with skepticism, if not outright suspicion. But the effects of widespread global migration belie common assumptions, and the connection between individuals and the countries in which they live cannot always be so easily mapped.
In The Scramble for Citizens, David Cook-Martín analyzes immigration and nationality laws in Argentina, Italy,and Spain since the mid 19th century to reveal the contextual dynamics that have shaped the quality of legal and affective bonds between nation-states and citizens. He shows how the recent erosion of rights and privileges in Argentina has motivated individuals to seek nationality in ancestral homelands, thinking two nationalities would be more valuable than one. This book details the legal and administrative mechanisms at work, describes the patterns of law and practice, and explores the implications for how we understand the very meaning of citizenship
MAKING TEA, MAKING JAPAN
Cultural Nationalism in Practice
UCLA Alumna 2009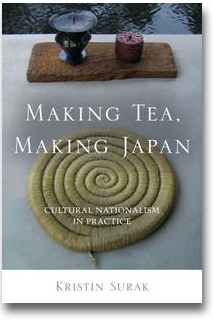 The tea ceremony persists as one of the most evocative symbols of Japan. Originally a pastime of elite warriors in premodern society, it was later recast as an emblem of the modern Japanese state, only to be transformed again into its current incarnation, largely the hobby of middle-class housewives. How does the cultural practice of a few come to represent a nation as a whole?
Although few non-Japanese scholars have peered behind the walls of a tea room, sociologist Kristin Surak came to know the inner workings of the tea world over the course of ten years of tea training. Here she offers the first comprehensive analysis of the practice that includes new material on its historical changes, a detailed excavation of its institutional organization, and a careful examination of what she terms "nation-work"—the labor that connects the national meanings of a cultural practice and the actual experience and enactment of it. She concludes by placing tea ceremony in comparative perspective, drawing on other expressions of nation-work, such as gymnastics and music, in Europe and Asia.
Taking readers on a rare journey into the elusive world of tea ceremony, Surak offers an insightful account of the fundamental processes of modernity—the work of making nations
THE NEW ENTREPRENEURS
How Race, Class, and Gender Shape American Enterprise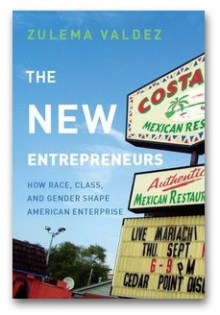 For many entrepreneurs, the American Dream remains only partially fulfilled. Unequal outcomes between the middle and lower classes, men and women, and Latino/as, whites, and blacks highlight continuing inequalities and constraints within American society. With a focus on a diverse group of Latino entrepreneurs, this book explores how class, gender, race, and ethnicity all shape Latino entrepreneurs' capacity to succeed in business in the United States.
Bringing intersectionality into conversation with theories of ethnic entrepreneurship, Zulema Valdez considers how various factors create, maintain, and transform the social and economic lives of Latino entrepreneurs. While certain group identities may impose unequal, if not discriminatory, starting positions, membership in these same social groups can provide opportunities to mobilize resources together. Valdez reveals how Latino entrepreneurs—as members of oppressed groups on the one hand, yet "rugged individualists" striving for the American Dream on the other—work to recreate their own positions within American society.
THE SPACE OF OPINION
Media Intellectuals and the Public Sphere
UCLA Alumni 1996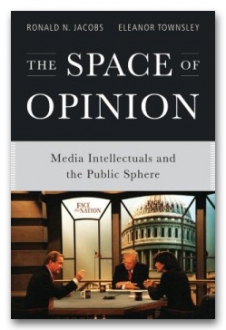 To describe and analyze this complex space of news media, Ronald Jacobs and Eleanor Townsley rely on enormous samples of opinion collected from newspapers and television shows during the first years of the last two Presidential administrations. They also employ biographical data on authors of opinions of opinion; not only have the people who speak within the space of opinion become more diverse over time, but the formats of opinion-claims to authority, styles of speech, and modes of addressing publics-have also become more varied. Though Jacobs and Townsley find many changes, they also find continuities. Despite public anxieties, the project of objective journalism is alive and well, thriving in the older, more traditional formats, and if anything, the proliferation of newer formats has resulted in an intensified commitment (by some) to core journalistic values as clear points of difference that offer competing logics of distinction and professional justification. But the current moment does represent a real challenge as more and different shows compete to narrate politics in the most compelling, authoritative, and influential manner. to connect specific argument styles to specific types of authors, and examine the distribution of authors and argument types across different formats. The result is a close mapping that reveals a massive expansion and differentiation of the opinion space. It tells a complex story of shifting intersections between journalism, politics, the academy, and the new sector of think tanks. It also reveals a proliferation of genres and form
By providing the first systematic study of media opinion and news commentary, The Space of Opinion will fill an important gap on research about media, politics, and the civil society and will attract readers in a number of disciplines, including sociology, communication, media studies, and political science.
MEMORIES OF THE FUTURE
UCLA Alumnus 1952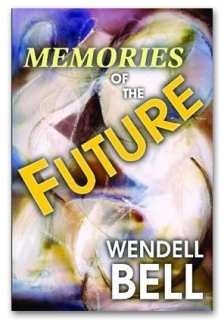 Life courses, both professional and personal, are often directed by unplanned experiences. At crossroads, which path is followed and which hard choices are made can change the direction of one's future. Wendell Bell's life illustrates how totally unforeseen events can shape individual lives. As he notes, despite our hopes and our plans for the future, there is also serendipity, feedback, twists and turns, chance and circumstance, all of which shape our futures with sometimes surprising results. In Bell's case, such twists and turns of chance and circumstance led to his role in developing the new field of futures studies.
In Memories of the Future, Bell recognizes the importance of images of the future and the effect of these images on events to come. Such images—dreams, visions, or whatever we call them—help to determine our actions, which, in turn, help shape the future, although not always in ways that we intend. Bell illustrates, partly with the story of his own life, how people remember such past images of the future and how the memories of them linger and are often used to judge the real outcomes of their lives.
This is a fascinating view of the work of an important social scientist and the people and events that helped define his life. It is also about American higher education, especially from the end of World War II through the 1960s and 1970s, a period of educational transformation that included the spread of the merit system; the increase in ethnic, racial, gender, and social diversity among students and faculty; and a massive increase in research and knowledge.