Undergraduate Program Updates & Announcements
In an effort to keep everyone informed, we will post important department updates & announcements here. All announcements posted here have also been sent out via email to all registered Pre-Sociology and Sociology majors. If you have any questions feel free to email Dreama or Simbi for more information. Please be sure to include all relevant info, including your 9-digit university ID number.
10/28/2022
New the 2-pass enrollment system? Not sure which courses you need to complete the major or other unit requirements?  See the Inside Track Series workshop to learn more about how to use your Degree Audit Report, Class Planner, and Find a Class to Enroll. Hear from current Sociology students for tips on how they schedule their courses and important things to look for! If you missed the workshop, feel free to review the slides which has step-by-step instructions on how to search for classes, add them to the Class Planner, and Enroll. The full video presentation and PowerPoint Slides are posted on our department Box account: https://ucla.app.box.com/v/UndergraduateFiles. If you have any questions that are not addressed in the presentation or would like clarification  contact Dreama or Simbi.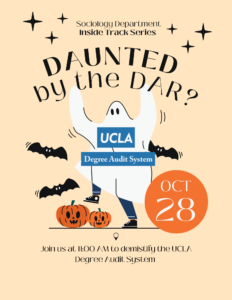 9/26/2022
We recommend joining the UCLA Sociology Slack page to learn more about upcoming events in the department and opportunities to get involved. See the screenshots below or follow instructions outlined here: Sociology Slack Tutorial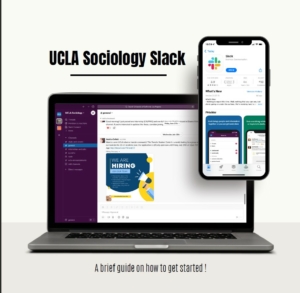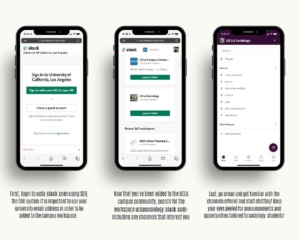 ****************
7/19/2022
Just sending a reminder that any course with a New Students Only or New Transfers Only restriction is not available to continuing students. There are course notes that state these courses are restricted to students enrolling via orientation between July 8th-Sept 13th. You may notice spots opening and closing in these courses over the summer, but they are not available to continuing students. You will only be able to enroll in a course that does not have this type of restriction. Please be careful because if you drop a course with the intent of enrolling in a course or a new discussion with a restriction, we cannot add you back to your original course.
Please pay attention to all course restrictions and all course notes (example shown below). After Sept 13th all course restrictions will be removed.