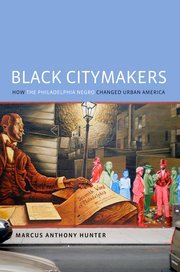 Biography
W.E.B. DuBois immortalized Philadelphia's Black Seventh Ward neighborhood, one of America's oldest urban black communities, in his 1899 sociological study The Philadelphia Negro. In the century after DuBois's study, however, the district has been transformed into a largely white upper middle class neighborhood.
Black Citymakers revisits the Black Seventh Ward, documenting a century of banking and tenement collapses, housing activism, black-led anti-urban renewal mobilization, and post-Civil Rights political change from the perspective of the Black Seventh Warders. Drawing on historical, political, and sociological research, Marcus Hunter argues that black Philadelphians were by no means mere casualties of the large scale social and political changes that altered urban dynamics across the nation after World War II. Instead, Hunter shows that black Americans framed their own understandings of urban social change, forging dynamic inter- and intra-racial alliances that allowed them to shape their own migration from the old Black Seventh Ward to emergent black urban enclaves throughout Philadelphia. These Philadelphians were not victims forced from their homes – they were citymakers and agents of urban change.
Black Citymakers explores a century of socioeconomic, cultural, and political history in the Black Seventh Ward, creating a new understanding of the political agency of black residents, leaders and activists in twentieth century urban change.
https://soc.ucla.edu/wp-content/uploads/2021/01/BlackCitymakers.jpg
272
180
webteam
http://soc.ucla.edu/wp-content/uploads/2020/09/Bxd_Blk_Sociology_A.png
webteam
2021-01-05 13:56:24
2021-01-05 14:01:49
Black Citymakers