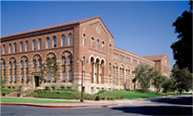 Located in Los Angeles, the city that the world watches to detect the shape of the future, UCLA is considered one of the world's preeminent sociology departments.
We have the world's leading group of scholars studying international migration and its legacies, as well as arguably the strongest program in the study of ethnicity and nationalism, domestically and internationally. We have an outstanding demography and stratification program, as attested among other ways by the exceptional placements of students in recent years. We have long had one of the strongest programs in comparative historical sociology. For more than three decades, UCLA has been the world's leading center for ethnomethodology and conversation analysis. We have superb faculty and graduate training programs in ethnography. We have been building up social studies of medicine and science, and sociology of the family.
 Committed to methodological pluralism, we conduct sociological research in myriad ways, whether through direct observation, archival work, recording of naturally occurring interaction, large-scale sample surveys, social network studies, experiments, or secondary data analysis.
Our home base -- Los Angeles -- is an extraordinarily dynamic social setting and a rich laboratory for sociological research. If Chicago was the city that nourished the sociological imagination for much of the twentieth century, Los Angeles is arguably its successor. The city's unparalleled levels of ethnic diversity, social and political experimentation, and diverse urban life provide endless stimulation for sociological eyes.
Our internationally renowned faculty includes numerous recipients of the academic world's most prestigious awards such as the Guggenheim Fellowships, Robert Wood Johnson Foundation fellowships, and one recipient of a MacArthur "Genius" award along with numerous recipients of many other prestigious fellowships. Two faculty have been elected to the American Academy of Arts and Sciences and one to the National Academy of Sciences.
Our recent Ph.D. students are now teaching at the world's leading universities including Michigan, Wisconsin, Chicago, Yale, Penn, and Berkeley, along with some of the very finest liberal arts colleges.
Our undergraduates have excelled in business, academia, the non-profit sector, public service, and the professions.