UCLA SOCIOLOGY MAJOR OF THE MONTH
JUNE 2017
SABRINA FANI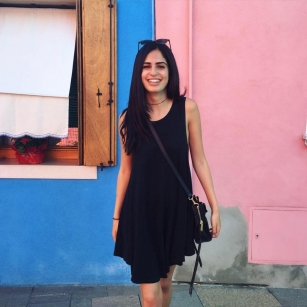 Hometown: Los Angeles, CA
Extracurriculars: Intern at Paramount Pictures, Vice President of Consulting for TAMID, Mentor at Hillel at UCLA, Director of Marketing at the Persian Community at Hillel, Member of Gamma Phi Beta Sorority
What drives your interest in sociology?
Pursuing Sociology has been most gratifying, because it has allowed me to gain insight into my own identity. Prior to studying at UCLA, I was unaware of how much my background, ethnicity, and gender play a role in shaping my experiences. Through my studies, I have gained a better understanding of how my identity as a second-generation Iranian-American Jew has developed and shaped the person that I am today. I have a deeper sense of respect for my family's migration experience, a fresh perspective on cultures that were once foreign to me, and an educated understanding of the discrepancies between stereotypes and social reality.
Each course I have taken during my time as an undergraduate sociology major continues to drive my interest in the discipline, as my understanding for the people and communities around me constantly expands. I am able to take a step back and observe my surroundings with a unique and informed perspective. My eyes have been opened to worlds I once knew nothing about. Sociology has given me the freedom to think critically about my surroundings. And the challenges it presents further drives my interest in the major.
What are your future career plans?
Upon graduating, I intend to pursue a career in Digital Marketing. Developing marketing strategies for brands on various social media platforms excites me, as the work I produce will be able to reach millions. The task to market a product online for a diverse audience provides an exhilarating challenge that drives me to pursue such a career. I find Digital Marketing to be rewarding as it will enable me to play a role in giving fans the ability to engage more directly with their favorite brands while creating a more personal and interactive experience on social media.
Through my Sociology classes at UCLA, I have widened my perspective on others and their cultures. This provides me with an advantage in my future endeavors. I look forward to applying my knowledge of concepts such as race, norms, and gender to the Digital Marketing field to develop strategies that respectfully appeal to a large and diverse audience.
Which Sociology classes have you enjoyed the most?
My two favorite Sociology courses at UCLA have been 151 (Comparative Immigration) and 156 (Race and Ethnicity in American Life). 151 opened up my passion for studying the sociology of immigration, as it gave me a better understanding of my family's migration experience from Iran to America as well as my own narrative as a second-generation citizen. In 156, my classmates and I were able to freely interact with one another and discuss the pressing issues of race and ethnicity. The conversations and concepts explored in the class made it a very memorable and rewarding experience.
Previous Majors of the Month:
June: Fatima Perez
April: Chelsea Dormevil
March 2017: Abbiegayle Levi
February 2017: Katherine Dumangas
January 2017: Nancy Nguyen