UCLA SOCIOLOGY MAJOR OF THE MONTH
MAY 2017
FATIMA PEREZ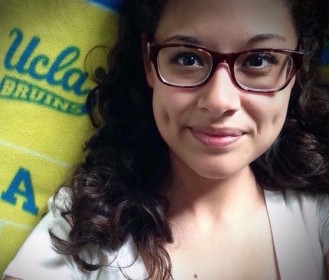 Hometown: Maywood, CA
Extracurriculars: Student-teacher at UCLA Fernald Early Care and Education; Project SPELL, Bruin Partners, Student Volunteer at Heliotrope Elementary School
What drives your interest in sociology?
When I first started at UCLA, I was undeclared because there were so many different choices and I could not decide. After taking Sociology 1, I developed a strong interest in exploring social norms, everyday interactions, and how people function in society. Sociology perfectly encompasses my passion for working with people by further analyzing social behavior. UCLA has helped shape me into the adult I am today, through its education and campus environment. By double-majoring in Sociology and Chicana/o Studies, I have learned to look at society from a different perspective. Through sociology, I have researched how environmental factors change the way people interact with one another. Race, class, ethnicity, socioeconomic status, educational attainment levels, and jobs all have an important influence. Sociology is a major that can be easily be applied to any topic because there are so many different realms that can be explored. Additionally, through Chicana/o Studies, I have studied how people of color have been marginalized in education, politics, and economically. By combining my primary areas of study, I have developed a new level of consciousness and understanding for all communities. As a result, I aspire to help others strive.
What are your future career plans?
I plan to become a social worker for low-income, Spanish-speaking communities to help eliminate the language barrier many families experience. I have seen first hand how important it is to have someone who can speak the language one feels most comfortable with, especially during difficult situations. I want to build a strong trust system for both children and their parents/guardians to make them feel welcome to share any concerns they may have during difficult times. I also want to eliminate the fear or misconception of the social work profession by demonstrating how social workers are working for the wellbeing of all. Before every case, I will explain the different programs and services that are available to help spread knowledge throughout the community. I want people to feel comfortable seeking out help because these services were created due to the necessity within society. It is my job (as a future social worker) to help those in need.
In the future, I hope to work in the reunification process for foster children and adoptions. I want to be the liaison who provides children with a loving home. These children have faced so much uncertainty in terms of their future and deserve to have more stability in their lives. I want to help children find homes that not only will provide them with the material items, but also genuinely care about their well-being.
Which Sociology classes have you enjoyed the most?
My favorite course in sociology was SOC 191V: Sociology of Second Generation. This course helped tie together my two primary majors (Sociology and Chicana/o Studies) along with my minor (Spanish); it also helped me to better understand my own experience. I learned about the advantages and disadvantages of being part of the second-generation social group. Additionally, due to the diversity within our seminar, I was able to see how members of diverse racial/ethnic and class groups have each tried to navigate through this difficult journey. This course made me realize that even though there may be many barriers along the way, the value of overcoming them is all the more significant.
Previous Majors of the Month:
April: Chelsea Dormevil
March 2017: Abbiegayle Levi
February 2017: Katherine Dumangas
January 2017: Nancy Nguyen